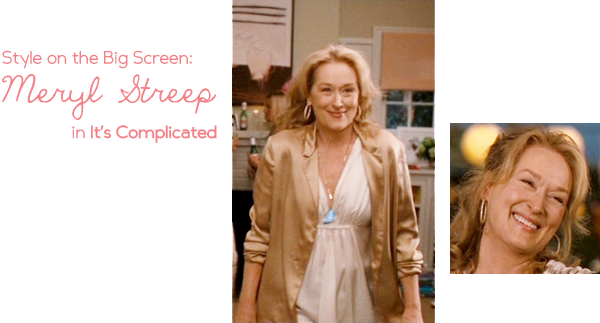 Who doesn't love Meryl Streep?  She's amazingly talented, stunning, and proof that beauty over 30 doesn't mean trying to look 20.  In It's Complicated (2009), she plays a divorced mother of three who decides to see re-kindle the romance with her ex-husband, played by Alec Baldwin, while simultaneously dating her architect, played by Steve Martin.
In addition to providing laughs being the perfect side dish to a glass of wine on girls' night, the movie serves as great style inspiration.  Meryl's character, Jane, has a enviable wardrobe of clothes that are full of life and personality while also fitting and flattering her body.  No stogy old lady clothes here.  Amanda Ross, Meryl's stylist for the movie, describes the character's fashion sense as "contemporary, relaxed, effortless…Part of the background on her character was that she had lived in Paris when she was younger, so she definitely had that sort of flair and sensibility" (article).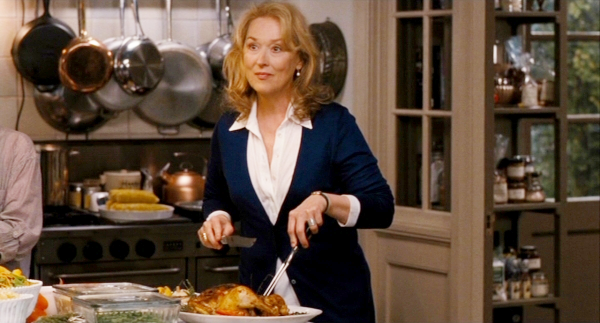 How does Jane do it?  By maintaining a wardrobe of basics and adding in the "flair" with accessories and extras that compliment them and make her outfits more unique.  In the above two photos, she is wearing perfectly-fitting button down blouses.  These pieces can stand alone for a simple look or be layered under a simple cardigan.  As I have mentioned before, keeping the neckline and décolletage area open elongates the body and simply will make the look prettier, as do the delicate drop-down pearl earrings in these outfits.
Jane really adds in the flair in the above two looks.  In the first, Jane is wearing a loose white blouse that and draped a pretty, gauzy white shawl over it.  She's wearing her signature blue pendant necklace that she wears in much of the movie.  In the second, Jane embraces color with a silk robe-like garment over a solid top.  She is doing the same thing for both looks: she's taking the basic item, whether that is a flowy white blouse or a simple v-neck top and adding personality with a bolder item.  Both tops could stand alone or could look great with different accessories.  I would like a colorful scarf wrapped around the neck in the first or a structured jacket in the second.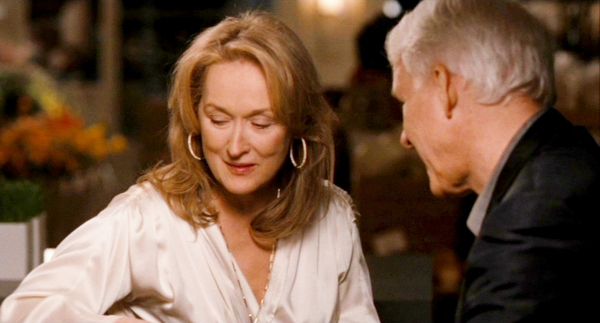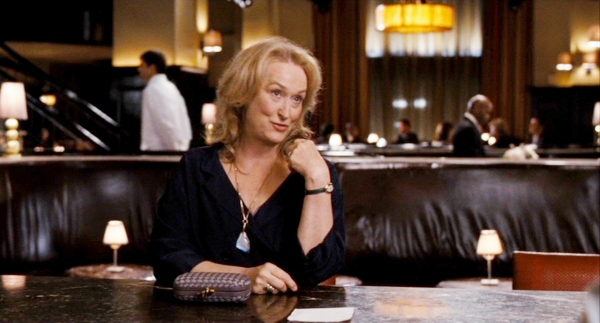 These last two also re-inforce my belief in the value of an open neckline. How glamorous does Jane look in both of these? She's not showing cleavage, she is simply elegant and beautiful.  She picks just a couple stand-out accessories and keeps the look, as Ross described, effortless.
You
Where should you go to find pieces to get Jane's look?  The first stop is your own closet.  Try on your button down blouses and if they don't fit, get them altered to wear in multiple ways with slacks, a skirt, or over jeans. Do you have things in your closet you never wear that you may have bought on vacation somewhere?  Try them on too!  Experiment with different ways to wear them.
If you're out shopping, there are a few places I recommend.  J. Jill is clothing store with an older demographic that sells pretty, casual basic tops that Jane would wear.  Gap always has a stock of basic cardigans in many colors.  If you are going to layer them the same way Jane does, I recommend wearing one with a long V neckline as opposed to a crew neck.  J. Jill and Gap get extra points for having tall and petite sizes online.  For dressier outfits, look at Ann Taylor for a good selection of pretty silk blouses in multiple colors.  No need to stick to white just because Jane does; pick a bright color if you like!  Cost Plus World Market has a beautiful and unique selection of imported jewelry and accessories; some are only offered online so you should browse the site.
Here are a few pieces I found that embody Jane's style: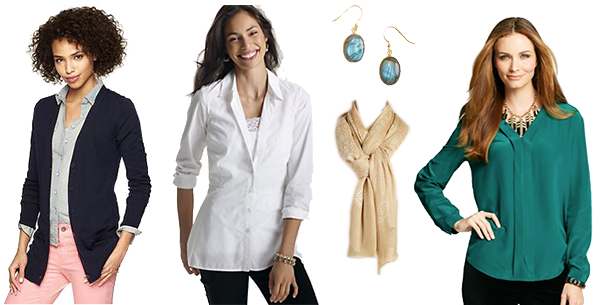 Cardigan: Gap | White blouse: J. Jill | Earrings: World Market
Scarf: World Market | Emerald Blouse: Ann Taylor
The white blouse and navy cardigan I've chosen are very similar to Jane's.  I especially like this white blouse because it has a seam right in the waist which will create a nice shape on the body.  I chose the emerald blouse instead of a white one because quite simply I liked the color.  The labradorite earrings and scarf would look nice with either top.
Screen captures courtesy of SimplyStreep.com.
Comment!
How do you like Meryl Streep's character's style in this movie?  Would you consider incorporating some of these ideas into your outfits?